The team at AWA recently went to the Sheffield University Conference; "Street Trees and Politics". The conference was in response to Sheffield's infamous "street tree crises" or "chainsaw massacre", which was a result of Sheffield Council letting a 25-year maintenance contract for tree care to Amey, whose actions led to public outcry and international reporting.
The conference explored the issue of street trees and politics in greater depth, addressing not just the Sheffield situation, but the wide range of issues that affect street trees in urban environments.

We had feared that the event was going to be somewhat of a STAG (Sheffield Tree Action Group) love-in, and while the general direction of argument was (rightly) very critical of Sheffield's recent street tree management, we were relieved that it was truly a multidisciplinary mix of speakers, with contributions from campaigners, academics, journalists, lawyers and arboriculturists. Just as importantly the delegates appeared to be an even mix of academics, protesters, arboricultural consultants, and local authority tree officers, including several of the trees team from Sheffield Council.
Highlights of the two-day event included AWA Tree Consultant Dr Felicity Stout, who kicked-off the conference in fine style, taking us on a fascinating journey back in time, detailing a brief history of street trees and providing a Seventeenth-century perspective on street trees at this time of great social and political upheaval. The presentation included detail on Samuel Hartlib and his interest in arboriculture, and how the highly respected Royal Society's first publication in the 1600s was about trees. Felicity's presentation finished by considering the importance of re-evaluating street trees in terms of political significance and commonwealth, in order to see street trees as public, national assets.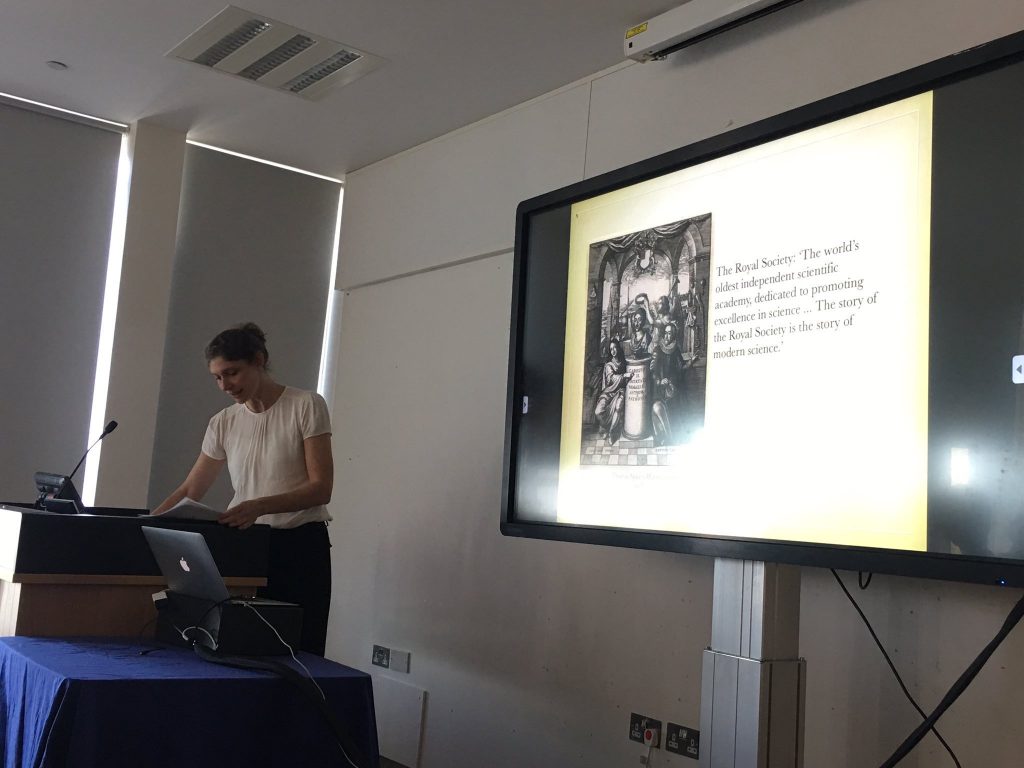 The local and international academics covered eclectic, and often very specialised, interests including: street tree art and activism – Japanese cherry planting in Berlin – the cultural values of street trees – the qualification, quantification, calculation and valuation of street trees in a neo-liberal world – notes from an ecosocialist campaigner – a forensic analyses of Sheffield's tree management strategies that Columbo would have been proud of – there was even some light relief in the form of tree cartoons.
There was a danger that the conference may have become too academic, and 'far-out', so it was crucial that practitioners such as Chartered Arboriculturist Russell Horsey was able to balance the academic "narratives", to provide practical experience of about the realities of managing urban trees on the ground, working with communities in order to try and avoid another "Sheffield Situation".
The culmination of the conference and – in our minds – the head-line act was Dr Charles Mynors, Barrister, FICFor (Hon); Lawyer, Law Commission, who gave an excellent and entertaining presentation, that gave a strong dose of reality to some of the more subjective areas of discussion. Yes, everyone likes trees, but not immediately outside their own house. The tree outside of my house blocks out light, shed leaves and occasionally branches, and it may fall over. However, the tree outside of your house is beautiful and has many other benefits!
Dr Mynors showed how it was not a straightforward case of a wicked Council doing the wrong thing. There is the issue of the liability of highway authorities to inspect trees, and to carry out remedial works – especially in the context of stretched budgets – pithily explained as "What Sheffield were trying to do was the right thing, how they went about it was daft."
Overall the Street Trees and Politics conference was a stimulating two days of discussion about 'our' Street Trees. Yet there were no easy answers as to how ambitious goals to increase urban canopy cover can be achieved in a time where public funds are dwindling.
(Photos taken from Twitter @LandscapeSheff )