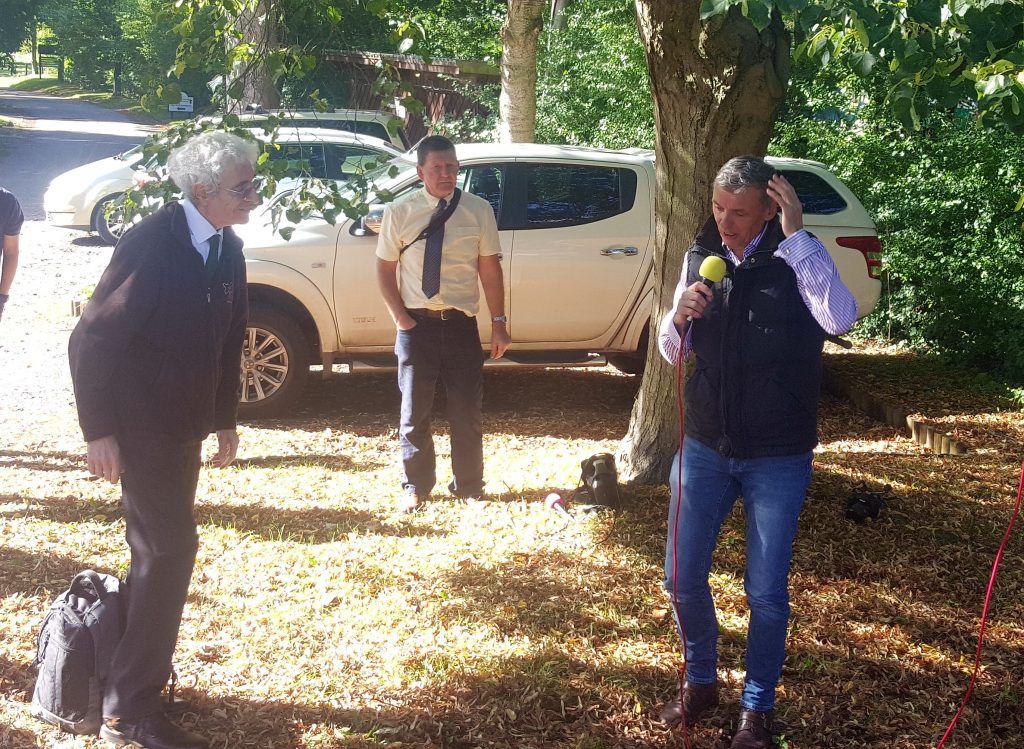 A few of the team from AWA Tree Consultants travelled down to the Arboricultural Association Midland Branch Seminar, held at the Hawkesyard Estate in Staffordshire. It was an excellent day of high-end arboriculture, with presentations from Jeremy Barrell and Dr. David Lonsdale – two leading expert witnesses in arboriculture.
The day began with an open forum led by the audience, to discuss tree risk management. Questions fielded by Jeremy and David included:

Ash dieback and tree risk.
The requirement – or not – for brevity and caveats in tree risk reports.
The pro's and cons of various tree risk methodologies – with some well-known methods coming under criticism for being 'fundamentally flawed'.
Following this, Jeremy's main presentation discussed the preliminary results of his findings, after having made a Freedom of Information request to all the UK highway authorities. Asking for information on tree failure related fatalities and injuries, tree risk management strategies, tree inspection protocols, and training programmes. He also gave some practical examples of less well-established tree hazards, that from Jeremy's long legal experience, suggests should be added to the list of more obvious defects and risks that arboricultural consultants are looking for during tree inspections and risk assessments. These included:
• Poplars and Willows – The species being disproportionately involved in damage or injury cases.
• Trees with severe crown imbalance.
• The danger of thinking occluded wounds are 'sound'.
• Root distribution – especially in relation to ditches and poorly draining soils.
• The over-emphasis on 'size' – bigger does not always mean a greater risk in relation to defective branches – highlighting the risk of harm of 'smaller' branches.
There was then a short fascinating talk from Vaibhav Raje who highlighted the state of arboriculture in India and tree risk management in Mumbai. Detailing the unique constraints and exciting potential within the city.

After lunch, David stood up – to a warm round of applause – to give his presentation. He detailed his involvement in some of the most high-profile expert witness cases over the last couple of decades. Highlights included:


The procedure for inspecting trees as an expert.
The training and competence of tree inspectors.
Strategies for managing tree risk – including 'assume it will never happen', 'it must never happen' and keeping risk 'As Low As Reasonably Practicable (ALARP)'.
Key issues that can decide the outcome of a court case.
The risk of hindsight when dealing with the aftermath of a tree failure.
This talk led to some more fascinating conversation between David and Jeremy, covering issues including Summer Branch Drop (in particular the tragic case of the cedar tree in the Kew inquest). It was when David and Jeremy went 'off-script' to discuss their differences of opinion (and areas of agreement) in relation to tree risk, that led to some of the most interesting parts of the day.

The afternoon included a walk around the attractive grounds of the venue, for a practical discussion on managing tree risk issues, with questions and answers to help clarify risk issues that were causing concern. Using real world examples of defective trees was an excellent and enjoyable way to consolidate the arboricultural knowledge of the earlier part of the day.
It was an excellent day that sped by without a dull moment – a true test of how interesting and engaging the speakers were, and how well the event was organised.